Shop Shots Volume 14 Insider Pictures of Automotive Service
Ah Shop Shots, some of my favorite posts are the pictures from the auto shop. Ok, no messing around, lets DO THIS!
If you look close, you can see that the BACK of the car is covered in bug guts. Yep, this brand new car has been traveling at high speeds in reverse. Well, kinda. It just came off the shipping truck. Someone had to back the car onto the TOP level of a shipping truck. That is NUTS to think that someone backed the car onto the truck. I would have a panic attack trying to do that. Now, this is not really a life changing picture, but I swear I crack up every time I see it. Like EVERY time. 😀
HAHAHAHA. WTH?? I am laughing about this still! See I take pictures almost every day. I don't always use the pictures the same week I take them. I found this one again today. Why the heck do people put this on their car? Do they get paid for it? Are just really be fans of "$weep$take$"? You have actually seen the other side of this Beetle before. It is the wrecked Beetle I posted a few weeks ago. If anyone knows why people do this, please post it in the comments.
I have talked about Volkswagen water leaks in other posts. Here is a Tiguan that had a slight leak. This actually belongs to a buddy of mine. We had been trying to get his car in to be checked. Finally we got the leak fixed. I pulled the carpet up to dry it. I think it came out great. A little shampoo, a little scrubbing, and a lot of fan, the car dried up nicely. If you ever find water on the carpet of your car, understand that the water is probably deeper than you think. The carpet on most VWs sits about 1.5 inches above the body. That means there can be a ton of water standing before it is at the carpet level. If you find you have water, get the carpet pulled and dried. A shop vac will not do the trick.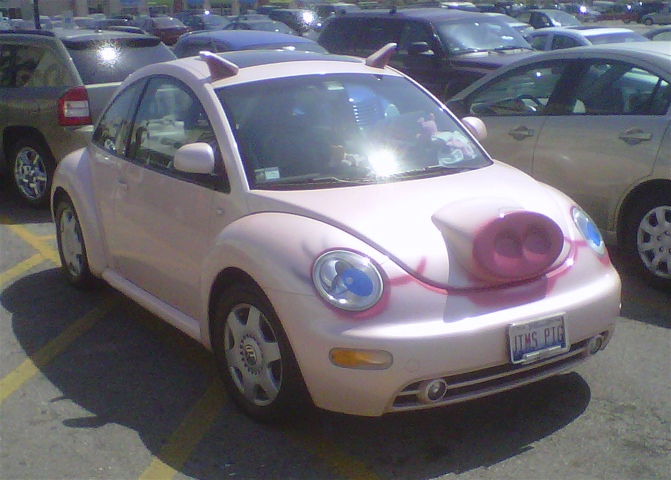 I think this goes in the "What the heck were they thinking" file. Then again, I bet my Cabriolet does too. 😉 This was sent to me by Steve in Chicago. Thanks Steve! I can't really comment on what, of why someone did this. I have be be honest, it looks like they put some time into it.. The detail is pretty good. I am sure that Jim LOVES his little pig. HAHA!
Ok, this video is AWESOME! What you are looking at here is called the Leak Detection Pump(LDP). This pump is part of the Evaporative Emissions system on your car. This system controls fuel vapors from your car. Whether it is when your car is being filled with gas, or that hot summer day, it will control the amount of vapors released in the atmosphere. The pump pressurizes your fuel system to check for leaks. When the system fails, your Check Engine Light comes on.
This car came in with a check engine light on. I did a "smoke test" on the system. Basically I charge the system with nitrogen, and add a chemical that smokes. When I unplugged the electrical connector for the LDP, this is what happened. I have seen it before, and I always like to watch it.
Well, another week of Shop Shots is done. There is one more thing that I want to say to everyone. This post is my 100th post. I want to tell each and every one of you THANK YOU! I truly appreciate the fact that you take time out of your day to visit the blog, read the posts, comment and so on. I just cant say THANK YOU enough. Thank you to all everyone that likes the facebook page, or follow on twitter. I appreciate every "share" every "retweet" especially the one that said, "check out this VW blog, sans skinny jeans". That one might be the funniest.  I feel really lucky to get to know all of you and I am really looking forward to the next 100,300,500,1000, and beyond! I hope that you enjoy the site,and get a good laugh all while learning some things about cars.. Seriously, THANK YOU ALL!!!!
I don't need to say it, you know what to do. 😉
https://humpodcast1.s3.amazonaws.com/wp-content/uploads/2012/05/15114634/20120501-200437.jpg
480
640
Charles
https://s3.amazonaws.com/humpodcast1/wp-content/uploads/2019/07/16121050/humble_mechanic_logo_white_200x100.png
Charles
2012-05-02 08:48:02
2012-05-01 20:30:10
Shop Shots Volume 14 Insider Pictures of Automotive Service