Listener Automotive Questions ~ Audio Podcast Episode 33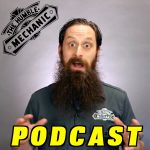 Everyone has a car question from time to time, and I am hear to help. On these automotive question shows, we cover a range of topics from tools to tires, and check engine lights to car wax. Listed below are the topics we will cover today.  I have carried this tradition of having a Monday show be dedicated to taking your questions. Remember if you want a question on a show like this, email me Charles(AT)HumbleMechanic(dot)COM, and put "Question for Charles" in the subject.

Become A CrewMember If you like this show. If you get value out of the videos and content that I put out, consider supporting the show by becoming a CrewMember. You will get discounts you can't get anywhere else, exclusive videos from me, and VW/Audi training manuals. Between the discounts and the training manuals, the CrewMembership can easily pay for itself. Become a CrewMember today Do you shop on Amazon? Many of you have asked about supporting the show. For that I thank you. For now, the best things you can do are SHARE THE SHOW, and shop with my links on Amazon. You will not spend any more money that you would normally. Here is the Amazon link ~ Humble Mechanic on Amazon or you can check out some recommended tools I have listed below.
Important links:
Join me as we discuss:
Why VW doesn't recommend soldering
Standing out to get your first job as a tech
Carbon build up on 2.0T engines
What is an "Italian Tune Up"?
What happens when customers get in over their head, and have to bring it to a shop
The W8 engine Check out W16 Explained
Humble Mechanic shop shirts
Rattle from MK4 VR6 engine
A short bit on positive vs negative camber
Where I got the VW Drive Gear trucker hat in the "Viewer Questions" show.
Time Lapse video "coming soon"
Tool Box Tour "coming soon"
And more
Thanks for tuning in to the automotive podcast. I am really excited about the response. If you have an idea for a show, contact me via email, or use the contact me form! Don't forget to follow me at:

https://humpodcast1.s3.amazonaws.com/wp-content/uploads/2017/11/15113108/33-Q-and-A-.jpg
1080
1920
Charles
https://s3.amazonaws.com/humpodcast1/wp-content/uploads/2019/07/16121050/humble_mechanic_logo_white_200x100.png
Charles
2017-11-16 08:16:39
2017-11-15 23:16:58
Listener Automotive Questions ~ Audio Podcast Episode 33