Product Review, "Tool Lodge" Tool Organization and Storage System
Hey everyone. I am having a hard time wrapping my mind around the fact that it is December 6th already. This year has been sort of a blur. For the blog it has been an AWESOME year. I may not say it enough, but I really do appreciate each and every one of you. You guys seriously rock.
Today I want to chat a little about tool storage and
organization. This is a very personal thing for a lot of people. Things get even crazier when you bring it to a professional level. Every one organizes things different. At work, I stage things in a way to get to them fast. At home, I like things nice and pretty. To be honest, my tools at home are a mess. 🙂
The folks at Tool Lodge were nice enough to send me a sample of their tool drawer organizer. They asked me to check it out, and give them my thoughts. I did that, and I figured I would share them with all of you as well. One quick thing, Tool lodge did send this to me at no charge. But as you all know, I give my honest opinion no matter what. That is how I roll.
Overall I think the product is well built. It is a foam wrapped in a felt type material. The backing is plastic and seem to be pretty supportive. You can even add magnets to the bottom. That would be good if the holder will not cover the entire drawer. Here are a few pictures of the process.
Here is a shot of some tools set out. The most important thing seems to be laying out your tools properly. If you look to the bottom left of the picture, you can see that I punched a ratchet into the foam.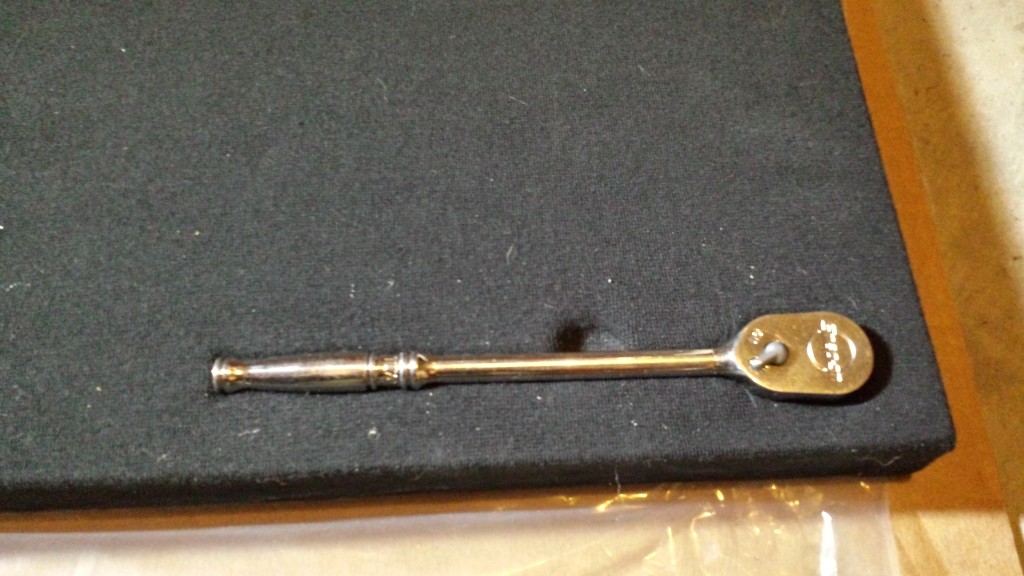 This is a close up of the ratchet I pressed into the foam. Pressing a tool seemed very easy to do. I was able to apply pressure by hand and set the tool so it would not move. Then I tapped the tool down into the foam. Tool Lodge recommends using a soft (rubber or plastic) mallet. I used a regular hammer and a block of wood. It worked great!
This is the imprint of the ratchet in the foam. You can see it does a good job of forming to the tool. You can even see the lines of the handle. If you look at the middle of the imprint, you can see an section pressed in that does not fit the ratchet shape. This is from the supplied grip tool. It lets you dent a spot to be able to grab the tool. This is one of my favorite parts about this system.
I also wanted to see how a box wrench would set in the system. Here you can see the tool and the indent in the foam. It does a pretty good job of setting an imprint that matches the tool.
Like I said before, I think this is a nice tool storage system. Here is my overall breakdown of the Tool Lodge.
PROS
Tools look VERY cool. Hey, that matters
Tools will always have a set place.
It is easy to see if something is missing.
Things can not roll around in the draw
Tools are easy to set in the foam
This is a GREAT system when people share tools
The felt will not mar tools
Product is well built
Custom sizes to most tool box drawers
The grip tool is great to get tools out fast.
No cutting of foam.
It's way better than the foam that you pluck the squares out of
Cons
Once the tools are set, there is no changing or adding tools
I am slightly concerned about long term use, the tools may not fit as tight down the road
I worry about what happens if you drop a tool on the foam. Light tools would be fine, but something with some weight might dent the foam.
The felt seems to hold some dust. This is not a big deal, just a minor.
I wonder about oil saturation on the foam. My tools are not always spotless when I put them away. This is a Charles thing. It probably does not apply to some folks.
The drawer you use it in needs to be 2 or more inches deep.
It is a bit pricey to outfit an entire tool box
Well that about wraps it up. I think Tool Lodge did a good job building this product. For the person looking for this type of organization, I think you will dig this! If you have any questions about Tool Lodge, please post them in the comments. I will also be setting a few more tools just to see how they form.
https://humpodcast1.s3.amazonaws.com/wp-content/uploads/2013/12/15114147/timthumb.php_.jpg
433
400
Charles
https://s3.amazonaws.com/humpodcast1/wp-content/uploads/2019/07/16121050/humble_mechanic_logo_white_200x100.png
Charles
2013-12-06 09:28:01
2013-12-05 22:31:33
Product Review, "Tool Lodge" Tool Organization and Storage System