Tool Giveaway with The Home Depot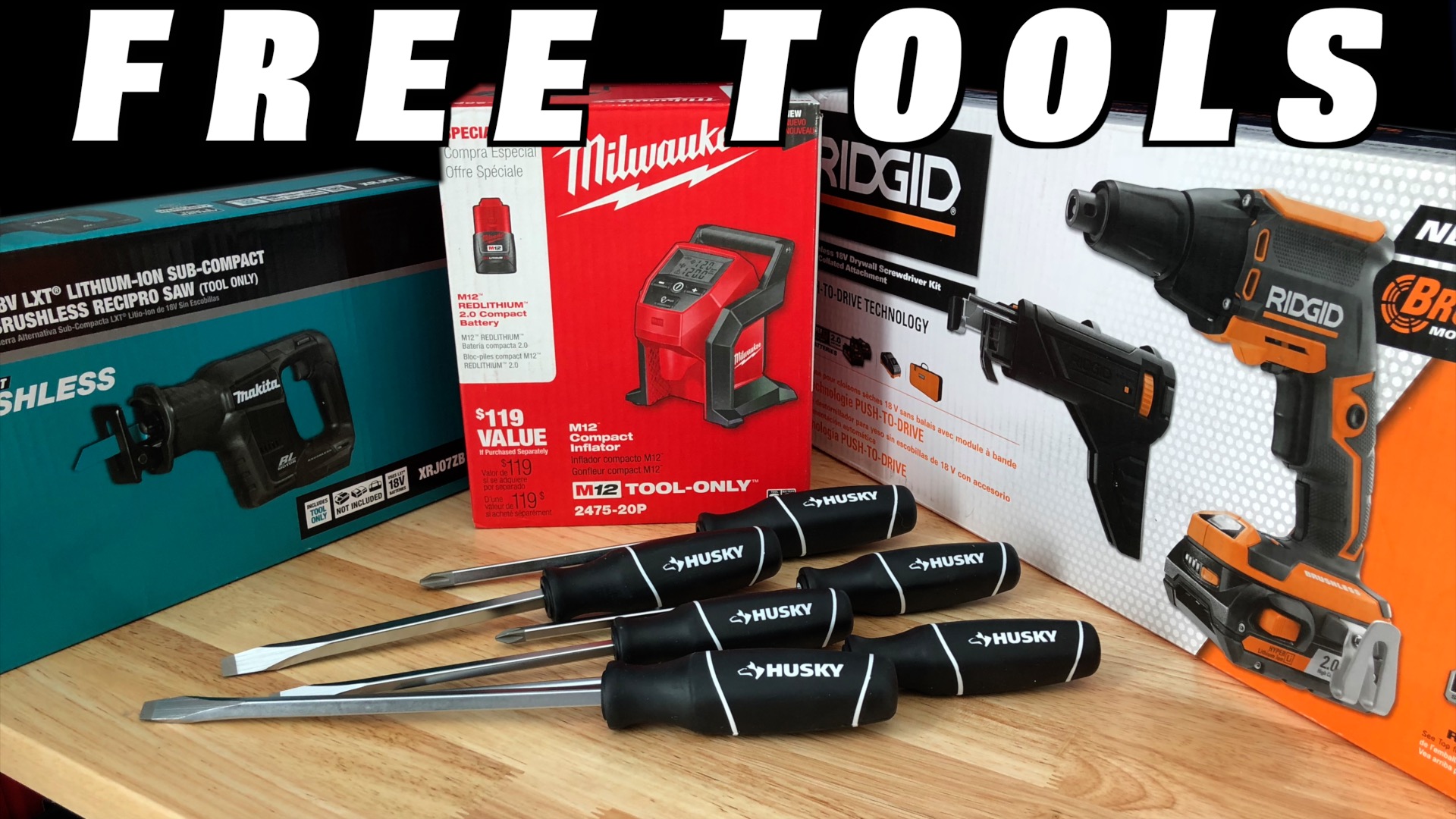 Free Tools?
Who doesn't love free tools? Earlier this year I started a deal with The Home Depot (Home Depot MotorSports). They send me a few tools once a quarter, and I check them out and review them what makes sense for Humble Mechanic. One of the main reasons I did this deal was to hook you guys up. I spent the last 15 plus years collecting tools for fixing cars, and for working around the house. Needless to say, I have a lot of tools. This deal with Home Depot gives me the chance to check out some stuff, and then give it away.
Disclaimer ~ This post is a paid partnership with The Home Depot. The tools were provided to Humble Mechanic at no charge. Links to products included in this post are affiliate links to The Home Depot. The information listed in product description is either my personal experience, or information provided by tool manufatorer or The Home Depot
For this quarter I am giving away (scroll down for full descriptions on each):
How To Play
I want to make this as easy as possible for all of us. Here is what you need to do:
Make a comment on this blog post saying which tool you'd like

When you make the comment, USE A GOOD EMAIL ADDRESS!

Share this post ~ Humble Mechanic Tool Giveaway ~ We will use the honor system, I trust ya
On Friday 7/27/18 I will pick the winners at random and make a post
If you are in the United States, I will personally pay the shipping
If you are outside the US, I will ask that you pay the shipping

I know this sucks, but it's this way or make it USA only

I will email each of the winners, you will have until 8/3/18 to respond back or I will pick another winner
If you win, I would love to have you post a picture when you get it

Tagging @HumbleMechanic and @homedepot
The Tools:
Here is more about the tools for this giveaway including links to The Home Depot
Husky Screwdriver Set (15 piece)
I bought this set of screwdrivers a while back. They have held up really well. They are strong, chemical resistant, and have a lifetime warranty. The set includes 8 flat blade, and 7 Phillips head screwdrivers and retails for $29.97 plus tax. There may or may not be a VW running around with a shift knob made from a handle of one of these screwdrivers. The package was opened to take photos.
Ridgid Brushless 18v Drywall Screwgun Kit 
As a mechanic I don't really think I am qualified to properly review this tool. Doing drywall work is something I have done before. Today I am happy to pay someone else to do this stuff. This tool does allow Push-to-Drive for less noise and more run time. It also includes the collated attachment, 2 batteries, a charger, and a carry bag. I really do wish I had a use for this tool. The packaging was opened for photos
Milwaukee M12 Cordless Compact Inflator 
I am going to be blunt here, the only reason I am giving this away is because I have one. And even with that I kinda want to keep it. This inflator is awesome! I use it all the time around the house. I toss it in the R32 for road trips. I also bring it to autoX events to set tires properly. It comes with attachments to inflate sports balls, and my kid's giant beach ball. This one comes with 1 M12 battery. If you are not using the M12 platform you will need a charger. This tools was opened for pictures and used 2 times. The battery is not opened
Makita Sub-Compact Brushless Recipro Saw (tool only)
This is a tool will probably come in handy. It's small, about 12.5″ in length so it fits in spaces the full sized recip saws will not. It works on the Makita LXT 18v battery. So if you are a Makita tool user you are gold. The saw will do 0-3000 strokes per minute with a stroke length of 13/16. This is the tool only so you will need to have your own battery and charger. Again, perfect if you already use Makita tools. This one is brand new in the box.
This post is in partnership with The Home Depot. The tools were provided to Humble Mechanic at no charge. Links to products included in this post are affiliate links to The Home Depot.
Rules
This giveaway is for Humble Mechanic subscribers and is free to enter, no purchase of any kind necessary (1 entree per subscriber)
You must be 18 years or older
If outside the US, winner will be responsible for shipping and handling
The giveaway starts when this blog is posted and closes 7/27/18 with a comment on the blog post
This giveaway complies with all applicable federal, state and local laws, rules and regulations including U.S. sanctions.
 Any personal data (address, email, name, etc) will be kept private and be used for Humble Mechanic and this contest to contact the winners and for a possible future Humble Mechanic  email list (you may unsubscribe at any time).
There will be 1 winner per tool
The winner will be chosen at random
Winners will be contacted via email
If a winner does not respond to their email by 8/3/18 a new winner will be picked
https://humpodcast1.s3.amazonaws.com/wp-content/uploads/2018/07/15112835/THD-Q2-tools-.jpg
1080
1920
Charles
https://s3.amazonaws.com/humpodcast1/wp-content/uploads/2019/07/16121050/humble_mechanic_logo_white_200x100.png
Charles
2018-07-23 08:54:35
2018-07-23 08:58:01
Tool Giveaway with The Home Depot