Shop Shots Volume 32 Insider Pictures of Automotive Service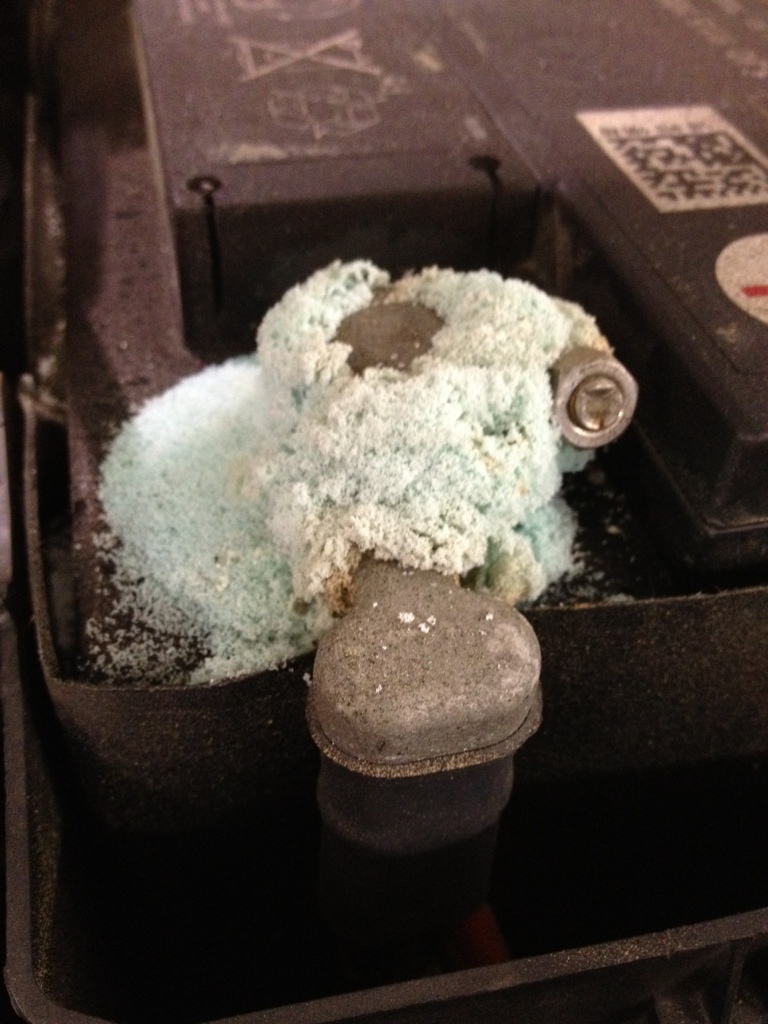 Hey everyone, I am back and all fired up. I know that I missed a few days worth of posts, and for that I am sorry.
If you are a new reader let me give you a rundown of what Shop Shots actually is. As you might imagine, auto mechanics see some interesting things. It can be anything from a wrecked car, something that broken in a strange way, or something weird a customer had in their car. I can't tell you how many times I have found pot in a customer's car. This series is a way for me to share what I find in the shop. Think of it as a behind the scenes look into a VW service center.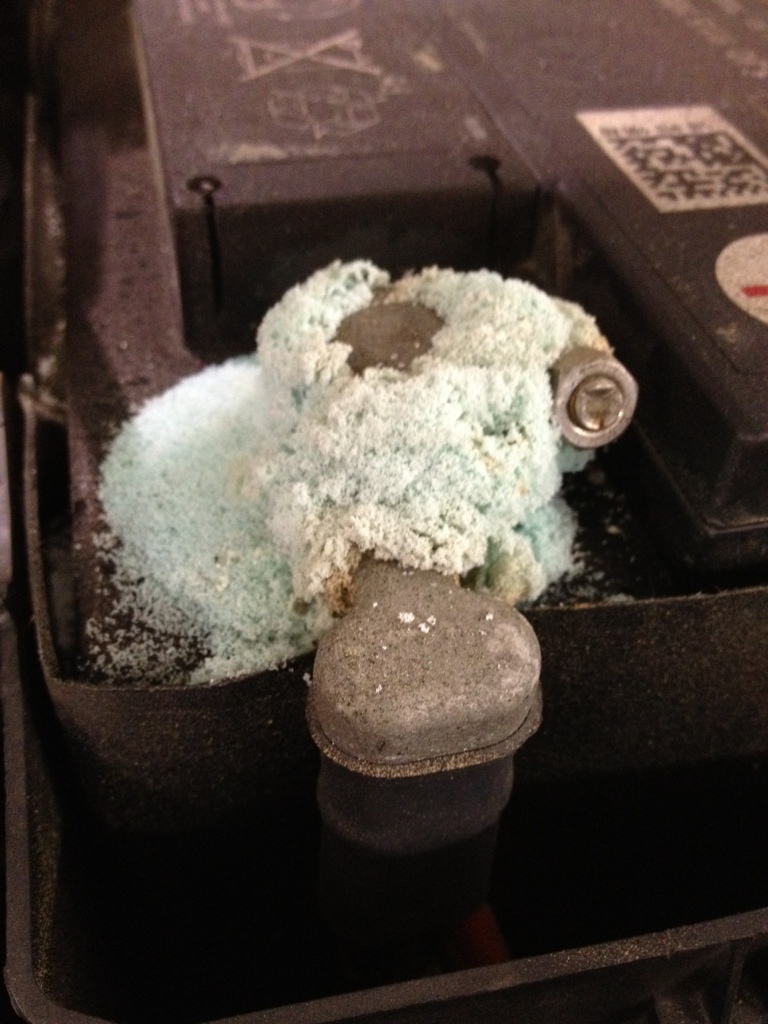 This is a close up shot of a VW battery. The "growth" on the terminal is corrosion. It can be caused by a leaking battery. Heat tends to aggravate the situation. This is not a good thing to have built up on your battery. It can cause issues with your vehicle. Modern cars are very very sensitive to low voltage.That means when the battery gets worn out, it will make the car do strange things. The most options a car has, the more important proper battery voltage it.
Be careful around this stuff. It is a product of battery acid. It will burn your skin, and eat holes in your clothes.
This is a picture I put together with a really cool Iphone app called PicStitch. It lets you frame and combine pictures. This is a picture(s) of a broken rear side glass on a Jetta Sport Wagon. The picture on the lower right shows the impact point. I am not sure what hit it, but no doubt something did.
I tried really hard to get a cool shot. One that showed the entire window, but still close enough so you could see the break. No such luck. The picture on the top right is from the inside out. There is just something so cool looking about broken safety glass. Oh and that is what a $400 piece of glass looks like.
This is a perfect example of preventative maintenance. This is a picture of the crankshaft gear on a 2006 GTI. The customer was in for his 120,000 mile service. That is a pretty big service. It also happens to be the mileage that the timing belt is due. I recommended the belt to him because it was at the proper mileage.
When I took the lower timing cover off, I noticed a slight pink trail. That is a dead giveaway that the car had a coolant leak. That is a free tech tip. If you see a crusty pink trail on your VW or Audi, just follow it and you will find your coolant leak.
The leak was coming from the coolant pump. With only the intention of replacing this pump as PM(preventative maintenance) I was also able to make a repair. At some point this pump would have needed to be repaired. Glad it was before the customer was stranded with a severe leak.
Okay today your are getting a bonus Shop Shot. I was working on this Passat yesterday. It was a 2012 and in for it's first service. When I popped the hood, I noticed something sitting on the cowl right by the wiper blades. Well, it turned out to be a pack of playing cards. How in  the world did a deck of cards get there? The world may never know.
That will wrap up another volume of Shop Shots. I am out of the shop today doing errands and heading out to Sears to exchange some broken tools. I might even get my wife's truck detailed. Hopefully it will be a surprise. Don't forget that to swing by and like the Facebook page. I do post a few things over there that don't make it to the blog. 🙂
https://humpodcast1.s3.amazonaws.com/wp-content/uploads/2012/09/15114450/20120925-210630.jpg
1024
768
Charles
https://s3.amazonaws.com/humpodcast1/wp-content/uploads/2019/07/16121050/humble_mechanic_logo_white_200x100.png
Charles
2012-09-26 08:11:04
2012-09-26 09:09:31
Shop Shots Volume 32 Insider Pictures of Automotive Service