Viewer Car Questions ~ Audio Podcast Episode 207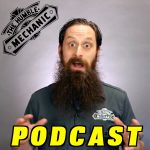 On this episode I will be taking your car questions. We will look at replacing your own ECM on a MK7 GTI, and why that may not work. Tips and tricks to finding water leaks on any car. How the water may be coming from the inside. Common issues with VR6 3.6l 4motion Passats. Buying a car with no keys? The best scan tool for working on Hondas and Toyotas. Also some things to think about when buying any scantool.
This video was originally published, September 11, 2017 in both video and audio format. You can also go back and listen to older episodes of The Humble Mechanic Podcast 
Become A CrewMember
If you like this show. If you get value out of the videos and content that I put out, consider supporting the show by becoming a CrewMember. You will get discounts you can't get anywhere else, exclusive videos from me, and VW/Audi training manuals. Between the discounts and the training manuals, the CrewMembership can easily pay for itself. Become a CrewMember today
Do you shop on Amazon?
Many of you have asked about supporting the show. For that I thank you. For now, the best things you can do are SHARE THE SHOW, and shop with my links on Amazon. You will not spend any more money that you would normally. Here is the Amazon link ~ Humble Mechanic on Amazon or you can check out some recommended tools I have listed below.
Join me as I take your automotive questions on:
1:49 ~ CrewMember Benefits 
2:22 ~ DIY ECM replacement
7:28 ~ Finding water leaks
12:35 ~ 3.6l VR6 Passat issues
17:27 ~ Best scantool for Honda/Toyota
and more
Thanks for tuning in to the automotive podcast. I am really excited about the response. If you have an idea for a show, contact me via email, or use the contact me form!
Don't forget to follow me at:
https://humpodcast1.s3.amazonaws.com/wp-content/uploads/2017/09/15113235/207-Audio-Thumb.jpg
1080
1920
Charles
https://s3.amazonaws.com/humpodcast1/wp-content/uploads/2019/07/16121050/humble_mechanic_logo_white_200x100.png
Charles
2017-09-11 05:09:58
2017-09-11 05:09:58
Viewer Car Questions ~ Audio Podcast Episode 207