Prepping Your Car For A Road Trip ~ Audio Podcast Episode 10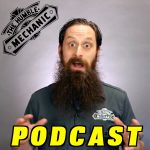 If you are getting ready to hit the road for a road trip, you have plenty of planning to do. But one area people often overlook is getting your car ready for that road trip. This is a vital step in prepping for a successful road trip. I have seen everything from people stopping in for a check engine light with the car loaded up for the beach, to breakdowns due to lack of maintenance 500 miles from home. Getting a car ready for a road trip should start long before you pack the car with gear.

Become A CrewMember
If you like this show. If you get value out of the videos and content that I put out, consider supporting the show by becoming a CrewMember. You will get discounts you can't get anywhere else, exclusive videos from me, and VW/Audi training manuals. Between the discounts and the training manuals, the CrewMembership can easily pay for itself. Become a CrewMember today
Do you shop on Amazon?
Many of you have asked about supporting the show. For that I thank you. For now, the best things you can do are SHARE THE SHOW, and shop with my links on Amazon. You will not spend any more money that you would normally. Here is the Amazon link ~ Humble Mechanic on Amazon or you can check out some recommended tools I have listed below.
Important links:
Join me today as we discuss
Car Maintenance
What to do 2-3 weeks before your trip
What to do 1 week before your trip
What to do the night before your trip
Car safety checks
plan your route
and more
Thanks for tuning in to the automotive podcast. I am really excited about the response. If you have an idea for a show, contact me via email, or use the contact me form!
Don't forget to follow me at:

https://humpodcast1.s3.amazonaws.com/wp-content/uploads/2017/09/15113222/10-road-trip-1.jpg
1080
1920
Charles
https://s3.amazonaws.com/humpodcast1/wp-content/uploads/2019/07/16121050/humble_mechanic_logo_white_200x100.png
Charles
2017-09-19 08:10:05
2017-09-19 10:07:54
Prepping Your Car For A Road Trip ~ Audio Podcast Episode 10