Is Volkswagen Reliability a Problem, or Just Perception? ~ Audio Podcast Episode 16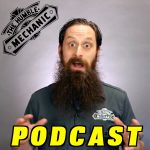 Do you think your VW is reliable? This is a question that I get a lot. "Should I buy a VW" "Are they good cars". And while I would love to say flat out YES, I usually answer it with "it depends. Taking care of a car is a lot more work them people want to spend. This means many cars are poorly maintained. Owning a poorly maintained VW is not a good choice. Yet many VW are perfectly reliable after 157k miles.
I want this show to get you thinking about issues in a larger space. Look beyond that $1000 bill you just had to pay and evaluate the problems free of emotions.

Become A CrewMember
If you like this show. If you get value out of the videos and content that I put out, consider supporting the show by becoming a CrewMember. You will get discounts you can't get anywhere else, exclusive videos from me, and VW/Audi training manuals. Between the discounts and the training manuals, the CrewMembership can easily pay for itself. Become a CrewMember today
Do you shop on Amazon?
Many of you have asked about supporting the show. For that I thank you. For now, the best things you can do are SHARE THE SHOW, and shop with my links on Amazon. You will not spend any more money that you would normally. Here is the Amazon link ~ Humble Mechanic on Amazon or you can check out some recommended tools I have listed below.
Important links:
On today's automotive podcast we talk about:
Why this topic came back up
VW ranks 5 from the bottom on J.D. Power
Why I "promote" VW as a brand? I DON'T!
My affinity for the brand
VW are not the right car for everyone
What fuels the problems car manufacturers have
Buy what you like, and expect problems
The story about my CR-V
A salesman wants you to by their brand
We can substitute VW for any other car brand
and more
Thanks for tuning in to the automotive podcast. I am really excited about the response. If you have an idea for a show, contact me via email, or use the contact me form!
Don't forget to follow me at:

https://humpodcast1.s3.amazonaws.com/wp-content/uploads/2017/09/15113203/16-audio-thumb.jpg
1080
1920
Charles
https://s3.amazonaws.com/humpodcast1/wp-content/uploads/2019/07/16121050/humble_mechanic_logo_white_200x100.png
Charles
2017-09-29 08:07:54
2017-09-29 08:07:54
Is Volkswagen Reliability a Problem, or Just Perception? ~ Audio Podcast Episode 16