6 Must Follow Rules for Borrowing Tools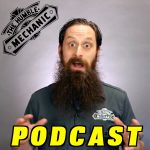 Today we are talking about the right way to borrow tools. As a professional mechanic, I have loaned out tools for many many years. Most of the time this is not a big deal. In fact it's great to be able to help a coworker or buddy out with the task at hand. Then there are the times when you loan something out and people get the dumb. Returning broken tools, NOT returning tools, borrowing the same tool over and over and over again. There is a certain etiquette when it comes to borrowing tools from someone.

Become A CrewMember
If you like this show. If you get value out of the videos and content that I put out, consider supporting the show by becoming a CrewMember. You will get discounts you can't get anywhere else, exclusive videos from me, and VW/Audi training manuals. Between the discounts and the training manuals, the CrewMembership can easily pay for itself. Become a CrewMember today
Do you shop on Amazon?
Many of you have asked about supporting the show. For that I thank you. For now, the best things you can do are SHARE THE SHOW, and shop with my links on Amazon. You will not spend any more money that you would normally. Here is the Amazon link ~ Humble Mechanic on Amazon or you can check out some recommended tools I have listed below.
Important links:
Join me today as I take your questions on:
Moisture buildup on the bottom of oil caps
My thoughts on the 3.6 VR6
Cold start misfires
Harsh shifting in a DSG
Carbon buildup
Removing an engine
Keeping my beard clean at work
and more
Thanks for tuning in to the automotive podcast. I am really excited about the response. If you have an idea for a show, contact me via email, or use the contact me form!

Don't forget to follow me at:
https://humpodcast1.s3.amazonaws.com/wp-content/uploads/2017/12/15113044/borrow-tools.jpg
1080
1920
Charles
https://s3.amazonaws.com/humpodcast1/wp-content/uploads/2019/07/16121050/humble_mechanic_logo_white_200x100.png
Charles
2017-12-13 10:11:53
2017-12-13 10:11:53
6 Must Follow Rules for Borrowing Tools