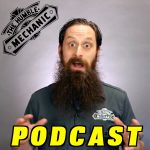 Today we are talking about DSG, or Direct Shift Gearbox transmissions. This show initially came on the heals of a video I did with, Jason from Engineering Explained. I wanted to use that opportunity to answer your questions before his video comes out. Let me say, you guys are going to love that video.
Over the years the DSG transmission is one of the parts I get the most questions about. "Should I buy one? It makes a noise, it shifts funny, can I DIY the service?" and on and on. This podcast will shed some light on the topic. If you want to learn more, check out the DSG Transmission Explained video Jason and I did. It actually made it to the VW training page for a while.

Become A CrewMember
If you like this show. If you get value out of the videos and content that I put out, consider supporting the show by becoming a CrewMember. You will get discounts you can't get anywhere else, exclusive videos from me, and VW/Audi training manuals. Between the discounts and the training manuals, the CrewMembership can easily pay for itself. Become a CrewMember today
Do you shop on Amazon?
Many of you have asked about supporting the show. For that I thank you. For now, the best things you can do are SHARE THE SHOW, and shop with my links on Amazon. You will not spend any more money that you would normally. Here is the Amazon link ~ Humble Mechanic on Amazon or you can check out some recommended tools I have listed below.
Important links:
Join me as we discuss:
Using the Factory fill tool
Measuring the proper fluid level
Clutch wear life
The beer I am drinking 😉
Issues with hesitation at start
Awkwardness in stop and go traffic
Why does my DSG roll after pulling it in park
DSG vs PDK
DSG in a MK4
Why are they replacing manuals
DSG in a MK1 (WHAT THE WHAT??)
and more
Thanks for tuning in to the automotive podcast. I am really excited about the response. If you have an idea for a show, contact me via email, or use the contact me form!
Don't forget to follow me at:

https://humpodcast1.s3.amazonaws.com/wp-content/uploads/2017/11/15113113/30-DSG-Qs.jpg
1080
1920
Charles
https://s3.amazonaws.com/humpodcast1/wp-content/uploads/2019/07/16121050/humble_mechanic_logo_white_200x100.png
Charles
2017-11-09 07:54:54
2017-11-09 05:56:43
DSG Transmissions Viewer Questions ~ Audio Podcast Episode 30