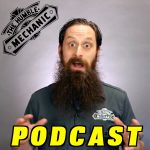 On this show we run into an interesting situation. The topic we are talking about is not really relevant anymore. Well I say that, but I think we can learn a few things from it. We will go into a little about my time with F1 in Texas. This was my first and only to this point F1 race. F1 racing is an interesting one. I am sure there are plenty of things that have changed in the three years since I went. But what an amazing weekend of racing, friends, and Halloween in Austin.
The second part of the show we talk about the VR6 swap Cabriolet. If you are new to the show, you may not know about it. The last project car I built was a 1988 Cabriolet. She got a full VR6 swap in it. This was a super fun build. I am now seeing a lot of the same things on the GTI that I saw on the Cabby. I guess all project cars have these issues 🙂

Become A CrewMember
If you like this show. If you get value out of the videos and content that I put out, consider supporting the show by becoming a CrewMember. You will get discounts you can't get anywhere else, exclusive videos from me, and VW/Audi training manuals. Between the discounts and the training manuals, the CrewMembership can easily pay for itself. Become a CrewMember today
Do you shop on Amazon?
Many of you have asked about supporting the show. For that I thank you. For now, the best things you can do are SHARE THE SHOW, and shop with my links on Amazon. You will not spend any more money that you would normally. Here is the Amazon link ~ Humble Mechanic on Amazon or you can check out some recommended tools I have listed below.
Important links:
Join me today as we discuss
My trip to Austin with Shell
The great folks in my media group
A weekend with Ferrari
Dubs for A Cause
VR6 Cabby electrical issues (big surprise)
How we are going to fix said electrical issues
and more
Thanks for tuning in to the automotive podcast. I am really excited about the response. If you have an idea for a show, contact me via email, or use the contact me form!
Don't forget to follow me at:

https://humpodcast1.s3.amazonaws.com/wp-content/uploads/2017/09/15113217/13-Shell-cabby.jpg
1080
1920
Charles
https://s3.amazonaws.com/humpodcast1/wp-content/uploads/2019/07/16121050/humble_mechanic_logo_white_200x100.png
Charles
2017-09-22 10:00:00
2017-09-19 11:44:35
F1 Race in Austin and VR6 Cabriolet Update ~ Audio Podcast Episode 13