Today we are going in depth on the warranty extension for common rail high pressure fuel pumps HPFP. This is a new extension that will cover certain Volkswagen TDI engines including: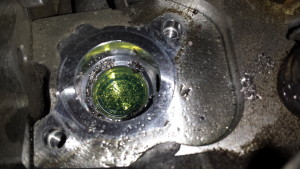 2009-2012 Volkswagen  Golf
2009-2012 Volkswagen  Jetta
2009-2012 Volkswagen  Jetta Sportwagen
2009-2012 Volkswagen  Touareg
2012 Volkswagen Passat
To find out if your VW is covered under this warranty extension, call your local dealer and give them your V.I.N. they can look that up for you. Failure of these pumps has been happening since about 2011. One of the bad things about HPFP failures is the cost of repair. The entire fuel system is replaced when metal from the pump is pushed into the fuel system.
Join me today as we discuss:
Terms of the warranty extension terms
What vehicles are included in the HPFP warranty extension
The very strict criteria for HPFP warranty extension coverage
Fuel samples under the HPFP warranty extension
Modified cars under the HPFP warranty extension
and more
As always your questions and comments are very much appreciated. If you have a suggestion for a show topic, use the contact me form, or email me Charles(at)humblemechanic(dot)com. If you want to find out if your vehicle is covered, please contact your local dealership. If you give them your V.I.N they can confirm your coverage.
Don't forget to follow me at:
https://humpodcast1.s3.amazonaws.com/wp-content/uploads/2015/07/15113633/SnapShot14.jpg
1836
3264
Charles
https://s3.amazonaws.com/humpodcast1/wp-content/uploads/2019/07/16121050/humble_mechanic_logo_white_200x100.png
Charles
2015-07-01 07:35:31
2019-01-22 09:37:03
Volkswagen TDI Fuel Pump Warranty Extension ~ Episode 79