Shop Shots Volume 37 Insider Pictures of Automotive Service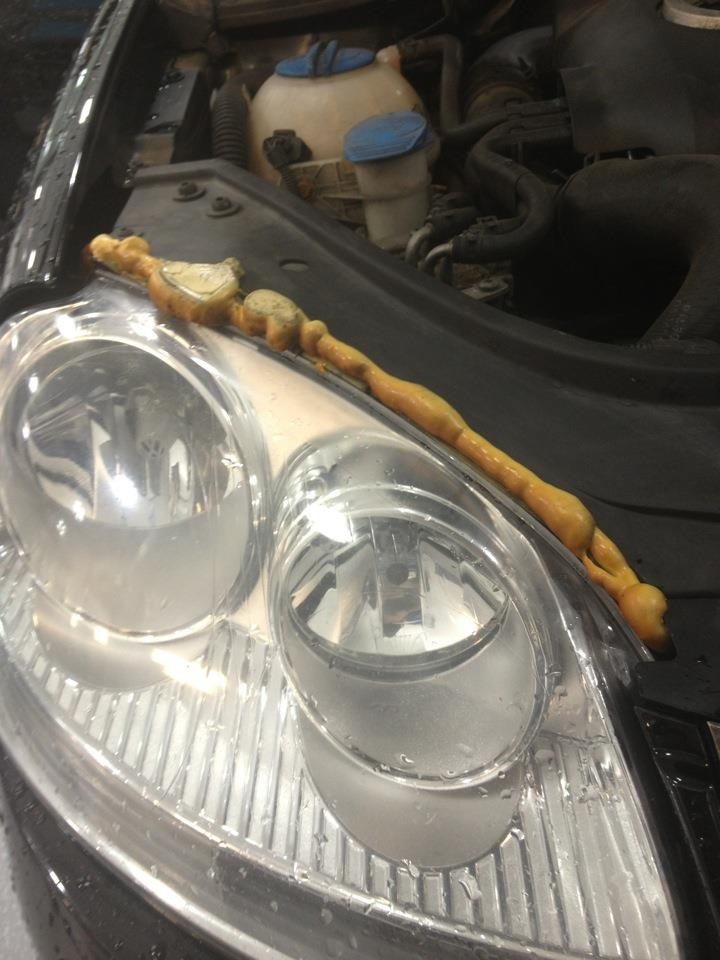 It's Shop Shots time! I hope that you are all having a great Wednesday. Today is my first day back in the shop. I spent the weekend with my wife and one of our dogs in Asheville, NC. It is really one of my favorite places to visit. If you ever have a chance to get out that way, please do it. You will not regret it.
Alright enough about me, let's get into some of the pictures for this week.
What you are looking at here is a water leak waiting to happen. This is a pile of leaves on the cowl panel of a VW Jetta Sport Wagon. I have posted pictures of this before, but since the leaves are falling, I wanted to remind you about it. This can cause water to no drain properly. If that happens you can have water run into the car instead of away from the car.
Be sure to pop the hood on your car and check for this type of debris build up. A few seconds to check can save on a big repair bill later on. It should come as no surprise that water leaks can get really expensive. I have seen more than one car totaled because of water damage. This is a really easy thing that anyone can check for.
I am all about saving money and getting good deals. I am also cool with some parts not being factory VW parts. There are times where you must have the right deal. If you put a non factory pollen filter in your car, worst thing that will happen is it will not fit perfect. No big deal. Spark plugs are one of many parts that must be the right thing.
This is a picture of an Auto-lite plug. This spark plug costs a dollar or two. Compare that to a factory VW spark plug which can be $20 or more. The dollar savings is crystal clear. However Auto-lite spark plugs don't work in VW engines. They almost always cause the vehicle to misfire. This is the worst Auto-lite(read this an ought-a-light and in it should work but does not 🙂 ) The plug on the left broke when the tech was taking it out. He had to use an extractor to get the threaded part of the plug out of the cylinder head. Luckily he was able to remove it with no damage to the engine.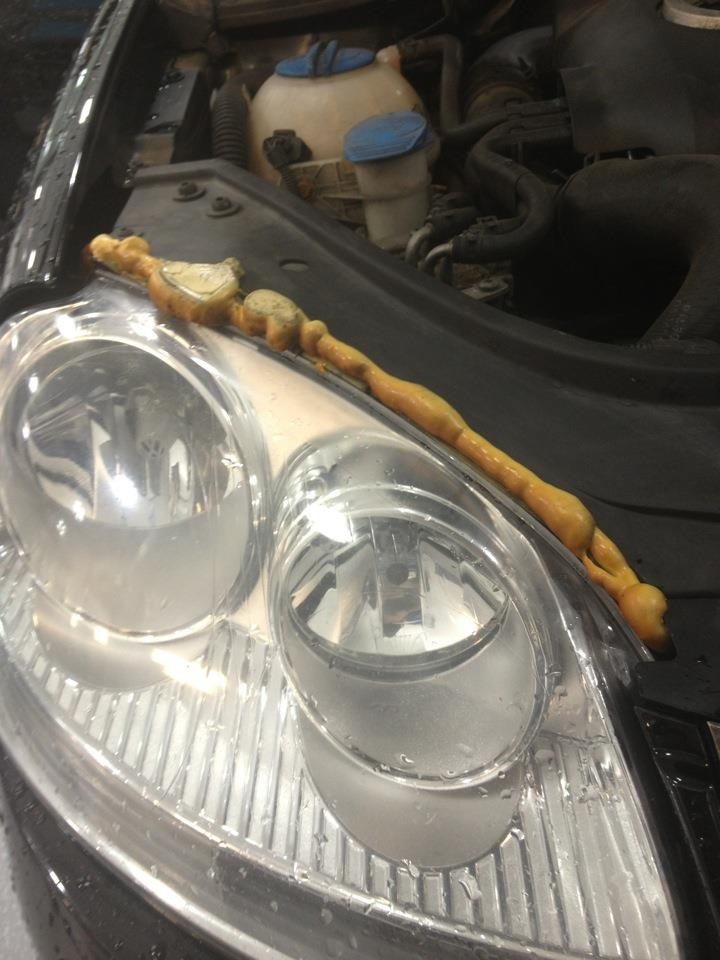 First I have to tell you that I didn't take this pictures. I got it from a fellow VW technician. I don't have all the details of the headlight, but it was too awesome to not share. This is a headlight that someone "repaired". They used expansion foam to make a repair. I am not sure if the clips that held the headlight together broke, or the clips that hold the headlight in place broke. Either way, it is a classic "don't try this at home".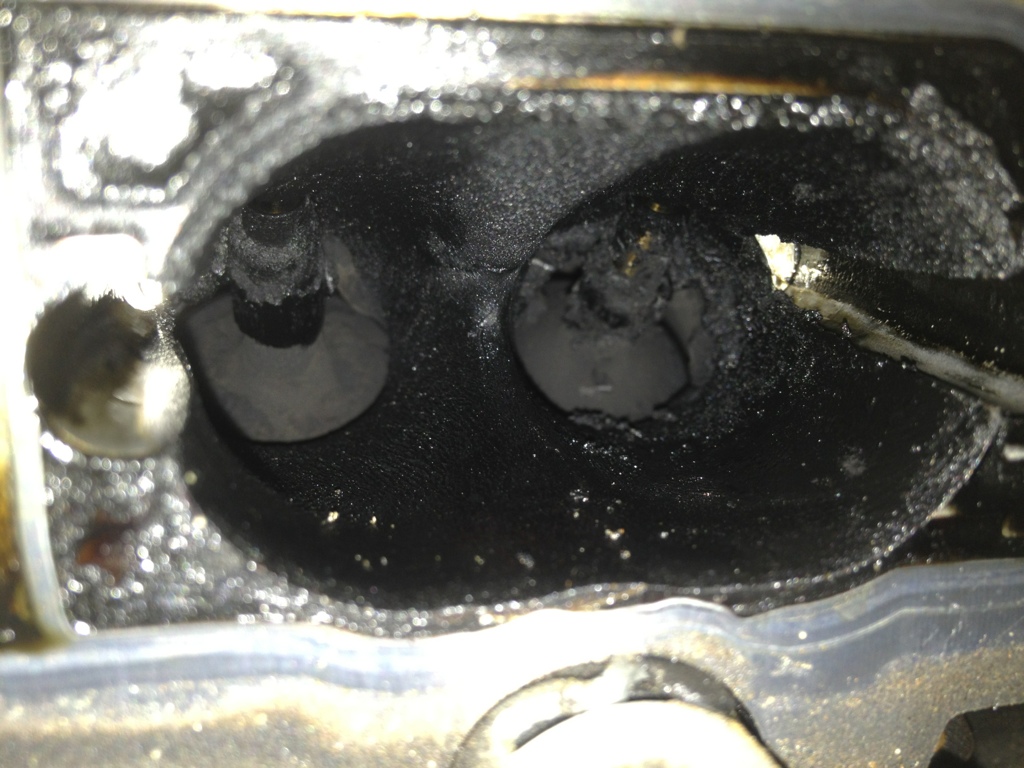 Finally I this for you all. This is a shot of the back of intake valves on a 2.0t engine. This car came in because it was misfiring when it was cold. We checked the maintenance and it was all up to date. With our scan tool, we can go in and look to see the conditions the car was under when the check engine light came on. Things like
Engine temperature
RPM
Engine load
Speed
The gear the transmission was in
Air temp
And many other readings
We could not find any other reason that the car would be misfiring. The mechanic next to me removed the intake manifold and found this. Carbon build up on the back of the intake valves. I don't want to say that this is a common thing, but it is not the first one I have seen. We were able to clean the valves and get this customer back on the road. It is a messy job, but make a world of difference in power and fuel economy.
That does it for another round of Shop Shots. I hope that you all enjoyed the pictures this week. I know I say it all the time, but I love doing theses posts.
https://humpodcast1.s3.amazonaws.com/wp-content/uploads/2012/10/15114419/20121030-165324.jpg
960
720
Charles
https://s3.amazonaws.com/humpodcast1/wp-content/uploads/2019/07/16121050/humble_mechanic_logo_white_200x100.png
Charles
2012-10-31 11:03:59
2012-10-31 11:03:59
Shop Shots Volume 37 Insider Pictures of Automotive Service