Shop Shots Volume 31 Insider Pictures of Automotive Service
Happy Shop Shots day everyone! I am back in the shop after having a few days off. It is always tough to get back in the groove. Okay, let's get this show rolling!
This picture came to me from a buddy. As you might guess, that is a circuit board from a module. This is the central electrics module. It is one of the main computers in the car. The customer was driving the car, and BAM lightning stuck it. It melted part of the car's roof, and fried 3 module. Thankfully the customer was not harmed. Well, not physically anyway. I know if that was me, I probably would need a few days to recover. I can't even imagine what that was like
We are going a little old school today. This is the first car I worked on today. What you are looking at is a rear drum brake on a 1997 VW Cabrio. I was replacing the parking brake cable. Check out all the springs and clips that drum brakes have.
I remember when I first started. One of the guys in the shop told me to take my drum brake tools home. He said we never mess with drum brakes. About a week later, I had to rebuild a set of drums on a Golf. HA, glad that I am stubborn. A quick tech tip when it comes to rear drum brakes. Do one side at a time. That way if you get the springs mixed up, you can just compare to the other side.
I thought it would be fun to keep with the old school theme today. 😉 This is not a Volkswagen carburetor. This is the carb from my 4wheeler, and the reason that there was not a post yesterday. I was in the process of selling my 4wheeler. It had a dead battery so I had not ridden it in a few months. I picked up a new battery, to the tune of $80 btw, and popped it in. It fired right up, SUCCESS!
Well that was until I gave it some throttle. It would just shut off. I messed around with it most of the day yesterday. Finally I just gave up and brought the carb to work. completely disassembling it, and cleaning it. I really hope that this fixes it. Another quick tech tip, working on a magnetic tray is perfect for things like this!
Finally today we have a Reader's Rides submission. Check out Mathew's Golf! I love love love those seats! If you want to have your car on Readers Rides, just email me some pictures and a description to Charles(at)HumbleMechanic(dot)com!
I come from a family of Volkswagens, my Golf is the 13th consecutive VW purchased in my family. I learned to drive in a B3 Passat and have been in love with hatchbacks/wagons ever sense.
Without further ado, here's the details:
2000 Golf 2.0L – 151,000+ Miles
Unitronic Stage 1+ ECU Software
22lb Flywheel
Sachs VR6 Clutch
Techtonic Tuning 260/268 Sport Cam
ABD CAI with K&N Cone
Audi TT Pedals
GLI Brushed Aluminum Trim (door handles, pulls, radio cage, & E-Brake)
GLI Shift boot with Euro Sport Edition shift knob
Custom Rebadged JOM Honeycomb grill
10mm Rear Spacers, 7mm Front Spacer
28mm Rear Sway Bar
Bilstien OE Sport Shocks with H&R OE Sport Springs
Helix LED Tail lights with rear fog
ECS Lower Grill Fog Lights
GLI Recaro Seats
Custom Pinstripe Headliner
Rebuilt Headlights with dual LED blinkers
Pioneer AVIC F-900BT Headunit
3-spoke GTI steering wheel
17″ Santa Monica Alloys, wrapped in Falken Ziex 912s (215/45 ZR 17 87W)
Soon:
12″ Alpine Type-S, 2Ω + 2Ω, SWS-1222D
JL Audio JX-500:1 Class-D Mono Amp
Not the best pics, but there they are…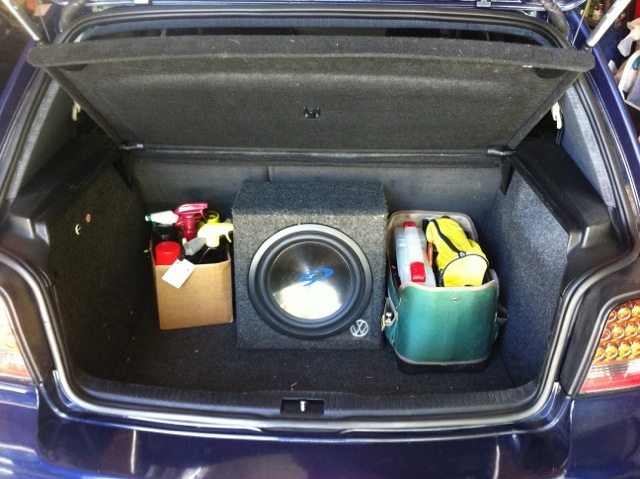 https://humpodcast1.s3.amazonaws.com/wp-content/uploads/2012/09/15114455/20120919-095410.jpg
768
1024
Charles
https://s3.amazonaws.com/humpodcast1/wp-content/uploads/2019/07/16121050/humble_mechanic_logo_white_200x100.png
Charles
2012-09-19 10:19:51
2012-09-19 19:27:54
Shop Shots Volume 31 Insider Pictures of Automotive Service