Project "Luv A Dub" Episode 1
Well, I finally chose a name for the Cabby. Meet, project "Luv A Dub" I went back and checked the original post about the car. It just so happens that Garrett was the one that suggested it. Thanks Garrett!
This weeks update is 2 parts. First, I am still working on the floor pan. Removing all the sound dampener, rust, and crud is very time consuming. I am still working on the driver's side. I have been using a wire wheel on a drill to remove any rust and the remaining paint, and glue. Here is where I am at on the interior.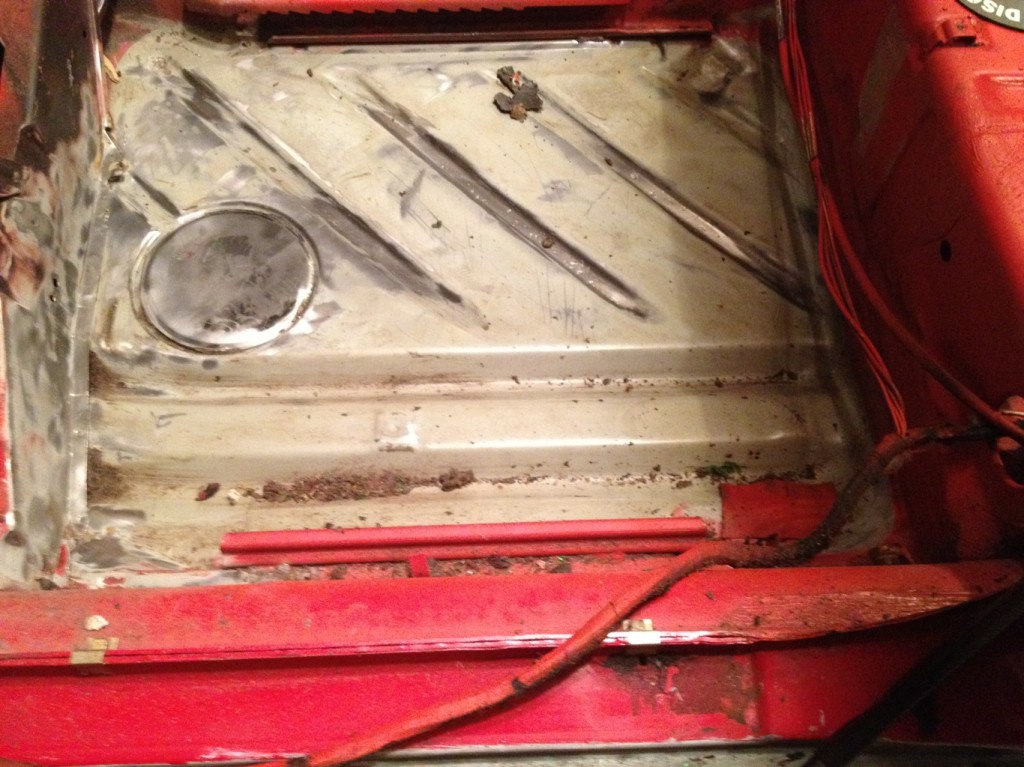 Here is the driver's side rear floor pan. Just a very small amount of rust. I removed the sound dampener, then cleaned the rest with a wire wheel. Next will be a complete clean of the floor. That is the part I don't care for.
Here is a good before and after shot. I have not done anything to the passenger side yet. Notice how awesome the paint is that was under the rear seat. That has me thinking that I want to keep it the factory color!
If you notived that the center console is missing, great job. I took it out to make removing all the dampener possible. Here is a video showing just how much "art" is on this car.
<iframe width="640″ height="360″ src="http://www.youtube.com/embed/UPPbCi1zN60?rel=0″ frameborder="0″ allowfullscreen></iframe>
I am SO excited on how this came out. I will clean and restore the console so everyone can see how to do that.
As you can see, the console came out great! I just wish the seats were that easy.
Well that pretty much recaps the work this week. Congrats to Garrett! I have a little gift pack for you. Just email me your address and I will send it to you. 😉
Have a great weekend everyone.
https://humpodcast1.s3.amazonaws.com/wp-content/uploads/2012/06/15114616/20120601-121225.jpg
1366
1024
Charles
https://s3.amazonaws.com/humpodcast1/wp-content/uploads/2019/07/16121050/humble_mechanic_logo_white_200x100.png
Charles
2012-06-01 18:51:52
2012-06-01 18:51:52
Project "Luv A Dub" Episode 1