How VW 2.0t TSI Intake Manifolds Fail ~ Audio Podcast Episode 20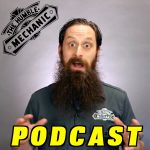 VW 2.0 TSI intake manifold failure is SUPER common. In fact they have a warranty extension on them. But how exactly do these intake manifold fail? Join me today as we look at some ways the CCTA intake manifolds fail. This is not only an VW issue, but an Audi issue as well. It has been well documented that many cars even get multiple manifolds replaced. Since this video came out, VW has updated the 2.0t TSI intake manifold. It how has a metal control arm, and a few other changes. I did a video about it if you want to learn more.

Become A CrewMember
If you like this show. If you get value out of the videos and content that I put out, consider supporting the show by becoming a CrewMember. You will get discounts you can't get anywhere else, exclusive videos from me, and VW/Audi training manuals. Between the discounts and the training manuals, the CrewMembership can easily pay for itself. Become a CrewMember today
Do you shop on Amazon?
Many of you have asked about supporting the show. For that I thank you. For now, the best things you can do are SHARE THE SHOW, and shop with my links on Amazon. You will not spend any more money that you would normally. Here is the Amazon link ~ Humble Mechanic on Amazon or you can check out some recommended tools I have listed below.
Important links:
On today's automotive podcast we talk about:
How it fails
Faults that may show intake manifold failure
Drive-ability issues with a failed intake manifold
How it fails
Intake manifold runner sticks
Intake manifold solenoid fails
Connecting rod for runner breaks
Sensor fails
Ways to test the intake manifold
Replacing intake manifold
Other repairs to consider with intake manifold removed
Injector seals
Carbon cleaning
And more…
Thanks for tuning in to the automotive podcast. I am really excited about the response. If you have an idea for a show, contact me via email, or use the contact me form!
Don't forget to follow me at:

https://humpodcast1.s3.amazonaws.com/wp-content/uploads/2017/10/15113151/20-intake-manifold.jpg
1080
1920
Charles
https://s3.amazonaws.com/humpodcast1/wp-content/uploads/2019/07/16121050/humble_mechanic_logo_white_200x100.png
Charles
2017-10-06 08:20:42
2017-10-04 12:53:39
How VW 2.0t TSI Intake Manifolds Fail ~ Audio Podcast Episode 20