Viewer Automotive Questions, Audio Podcast Episode 28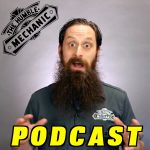 This is the very first podcast where I answered you automotive question. I posted a call out on Facebook to see what questions you guys had. While the first video was a bonkers 44 minutes, it became a mainstay of the show. Listed below are the topics that I answer questions on. Today I have carried this tradition of having a Monday show be dedicated to taking your questions. Remember if you want a question on a show like this, email me Charles(AT)HumbleMechanic(dot)COM, and put "Question for Charles" in the subject.

Become A CrewMember
If you like this show. If you get value out of the videos and content that I put out, consider supporting the show by becoming a CrewMember. You will get discounts you can't get anywhere else, exclusive videos from me, and VW/Audi training manuals. Between the discounts and the training manuals, the CrewMembership can easily pay for itself. Become a CrewMember today
Do you shop on Amazon?
Many of you have asked about supporting the show. For that I thank you. For now, the best things you can do are SHARE THE SHOW, and shop with my links on Amazon. You will not spend any more money that you would normally. Here is the Amazon link ~ Humble Mechanic on Amazon or you can check out some recommended tools I have listed below.
Important links:
Join me as we discuss:
The DSG transmission as a replacement for a manual transmission
Running Bio Diesel in a 2011 Jetta Sportwagon TDI
Letting techs borrow tools
The VW 2.0t FSI oil burning issues
VWs 10k miles service intervals
Buying a MK2 Jetta Coupe
Moving from Service Express to a main line technician
What I like and dislike about the VW MK7
Why I choose VW, and why I am an Audi/VW enthusiast
Did I forget about Landon? ?
My Thoughts on Rotary engines
Turbo or naturally aspirated
Replacing engine mounts
91 Cabby burning oil diagnosis
Reliability of TDI long term
Craft beer
Automotive service people's pet peevs
Best engine designs
VW history
Getting hired as a tech
AND MORE
Thanks for tuning in to the automotive podcast. I am really excited about the response. If you have an idea for a show, contact me via email, or use the contact me form!
Don't forget to follow me at:

https://humpodcast1.s3.amazonaws.com/wp-content/uploads/2017/11/15113117/28-Q-and-A-.jpg
1080
1920
Charles
https://s3.amazonaws.com/humpodcast1/wp-content/uploads/2019/07/16121050/humble_mechanic_logo_white_200x100.png
Charles
2017-11-07 10:08:43
2017-11-07 10:08:43
Viewer Automotive Questions, Audio Podcast Episode 28