How to Buy Tools as a Gift ~ Audio Podcast Episode 15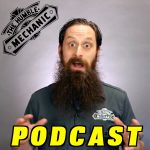 Buying tools can be a very personal choice. I realize how dumb that sounds, but it's true. I am someone that has spent a lot of time researching tools. In addition to that time doing research, I have spent a TON of money on tools. So today's show it really built on how to buy tools for anyone from the auto enthusiast, to the DIY homeowner. Also remember that gift cards are always awesome, but are not really personal. This may even hope you pick up some tools for yourself.
After talking about Prepping a car for winter yesterday, I have the holiday season on the brain. Now, this is NOT a holiday show, but I thought it would be a great time to talk about buying tools as a gift. So today on the automotive podcast, we are talking about things to consider when buying tools as gifts. I am also working on a guide to buying tools this holiday season. That will be coming out next week. I assure you, there will be awesome deals.

Become A CrewMember
If you like this show. If you get value out of the videos and content that I put out, consider supporting the show by becoming a CrewMember. You will get discounts you can't get anywhere else, exclusive videos from me, and VW/Audi training manuals. Between the discounts and the training manuals, the CrewMembership can easily pay for itself. Become a CrewMember today
Do you shop on Amazon?
Many of you have asked about supporting the show. For that I thank you. For now, the best things you can do are SHARE THE SHOW, and shop with my links on Amazon. You will not spend any more money that you would normally. Here is the Amazon link ~ Humble Mechanic on Amazon or you can check out some recommended tools I have listed below.
Important links:
On today's automotive podcast we talk about:
Thinking about who we are buying tools for

Car person
The Pro
The Woodworker
Electronics person
DIY homeowner

How to find the perfect tool
Buy nice or buy twice
Tool count does not equal value
What tools to aviod
Flames do not equal quality
Slam dunk gift ideas (I don't mean basketball)
Less glamorous, but awesome tool ideas
Thanks for tuning in to the automotive podcast. I am really excited about the response. If you have an idea for a show, contact me via email, or use the contact me form!
Don't forget to follow me at:

https://humpodcast1.s3.amazonaws.com/wp-content/uploads/2017/09/15113207/15-tools-as-gift.jpg
1080
1920
Charles
https://s3.amazonaws.com/humpodcast1/wp-content/uploads/2019/07/16121050/humble_mechanic_logo_white_200x100.png
Charles
2017-09-28 07:39:25
2017-09-28 08:09:38
How to Buy Tools as a Gift ~ Audio Podcast Episode 15