How VW A/C Compressors Fail ~ Video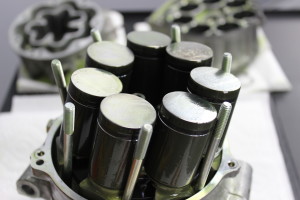 Today we are back with more failed VW parts. We are right in the middle of a pretty hot summer. With a hot summer comes failing Air Conditioning. One of the most common things we are seeing fail is A/C compressors. We are doing several a week. The most common seem to be on 2.0t TDI (engine code CJAA) and 2.5 engines. It is not the only thing that I see cause poor air conditioning, but it is common.
Sponsor Of The Day
Today's show is sponsored by Deutsche Auto Parts. They are the VW and Audi parts experts. They have great prices and awesome service. Plus they work really hard on a ton of VW DIY videos. Paul and the fellas at DAP are awesome. Also check out their new site at SHOPDAP.com
Join me today as we break down:
What is an A/C compressor?
The 2 main styles of compressor
Ways that a/c compressors fail
Symptoms of a failing A/C compressor
Diagnosing a bad A/C compressor
Is replacing a bad A/C compressor a DIY
Replace the compressor or repair it?
and more

Trouble viewing? Watch "How VW A/C Compressors Fail ~ Video" on YouTube.
As always, your questions and comments are welcome.
Please post them below. If you would like to suggest a part of a show like this, email me Charles(at)HumbleMechanic(dot)com. Thanks again to Deutsche Auto Parts for being such a great sponsor.
Don't forget to follow me at:
https://humpodcast1.s3.amazonaws.com/wp-content/uploads/2015/07/15113622/ac-comprsesors.jpg
1080
1920
Charles
https://s3.amazonaws.com/humpodcast1/wp-content/uploads/2019/07/16121050/humble_mechanic_logo_white_200x100.png
Charles
2015-07-28 04:43:22
2015-07-28 04:43:22
How VW A/C Compressors Fail ~ Video