Happy Thursday everyone! As you probably know, I have been on vacation this week. This is actually the second time I have ever taken a week of vacation time in my working career. It has been a week filled with working in the yard, and hanging out with the family.
I also updated my phone a few days ago, in typical Iphone fashion, the update crashed my phone. I had to restore it from the last backup in February. Since all of the Shop Shots come from my phone, I am missing a lot of pictures. So, Tech Tip of the day, be sure to back your phone up! Ok, lets do this!
This is a picture of a screw I found in the tire of MY Passat. (yep I got screwed) I was leaving the store and noticed it. I did not remove the screw, it was holding air, and I didn't want to have a flat. The thing about the location of the screw is, it will not be repairable. An object that is in the outer most of a tire tread is not repairable. The flex of the tire at that point to really high. Any repair, plug or patch is not safe. I will most likely be replacing this tire.
When it comes to repairing tires, we have 3 types of repairs, patches, plugs, and patch-plugs.
A plug is installed from the outside of the tire. Think of using gum to plug a water leak, Clark Griswold style. It is actually a little better than that, but you get the idea. This repair is fine for a temporary repair, but not the best way to fix a tire.
A patch is installed from the inside of the tire. It is a great way to repair a tire. This must be done by a professional, because the tire will need to be removed from the rim.
A patch-plug is the BEST way to repair a tire. It combines both methods. Covering the hole from the inside, and filling the hole with a plug. If you have a choice when getting a tire repaired, use this type of repair.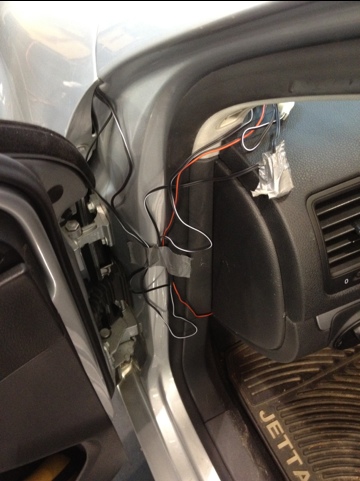 Any mechanic will tell you that we see dumb stuff like this all the time. People run wiring in the door jams is the most common dumb thing we see. The worst is when it is a big power wire from the battery to a radio amplifier. If you notice not only are the wires ran through the door jam, but it is secured with, you guess it, DUCT TAPE! I think that is was a GPS that was wired in this way. PLEASE do no do this.
I literally laughed out loud when I found this picture again. This is a picture of a Jetta airflow meter, and intake hose. I think the customer thought they had an air leak. They sealed it with tape. Then they put tape on the connector. I don't remember what type of tape it was, it was not duct tape. I remember it came off pretty easy, but I wasn't happy about messing with it.
This is another pride and joy picture I have. We had an EOS come in to the shop for the semi-common EOS water leak issue. The seats and seat belts were moldy, so I have know idea how long the water was in there. I removed the seats and found these little guys growing. Yep, little tiny mushrooms. Let me say that again, MUSHROOMS growing in an EOS. How awesome is that. I am sure it was really unhealthy for me to be working on that car, but live and learn!
If you have some of your own Shop Shots, come by and post them in the Humble Mechanic Forum. Don't be stingy with your good pics. The community over at the forum is really cool come by and check it out.
1 more thing, yesterday I was featured on a really cool technology blog. I did an interview with Matt talking all about car technology. He has a great blog with a lot of awesome information. Swing by and check out my interview!
https://humpodcast1.s3.amazonaws.com/wp-content/uploads/2012/03/15114657/20120322-100910.jpg
481
360
Charles
https://s3.amazonaws.com/humpodcast1/wp-content/uploads/2019/07/16121050/humble_mechanic_logo_white_200x100.png
Charles
2012-03-22 10:00:48
2012-04-04 21:44:43
Shop Shots Vol 8 Insider Pictures of Automotive Service